Social Dilemma-Should Men Get Pedicures, Especially in the Summer?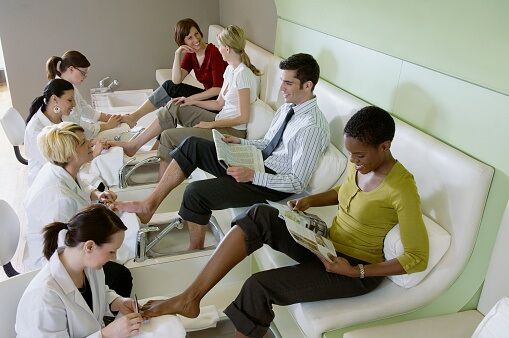 Today's social dilemma came up because of a conversation we were having at lunch after the Radiothon yesterday. I thought it was an interesting dilemma especially since the warmer weather is coming and this is something we all can relate to. We were all talking about how we're going to try to relax this weekend with this being a crazy week and all. In the midst of the conversation I said I was going to treat myself and get a pedicure. It's time, since open toe shoe season is upon us, plus it's very relaxing. Well a couple of the guys said that they couldn't do that to relax. And of course, all six of the women at the table simultaneously asked why not?!?! The guys said pedicures are not for men, they're for women. Guys don't get pedicures. And of course, we all agreed that guys should get pedicures. Anyone who wears sandals in the summer can get a pedicure. They disagreed and said it wasn't necessary and that they would feel strange getting one. I didn't get that. I think it's fine for a man to get a pedicure. So I thought I would ask you, as I do. Do you think men should get pedicures like women do? Or do you think it's not necessary and men's feet are just fine in their sandals without them? Let me know what you think on the TRY Facebook page.

Jaime in the Morning!
Want to know more about Jaime in the Morning!? Get their official bio, social pages & articles on 98.3 TRY!
Read more