Social Dilemma-Who Does the Cooking In Your Family?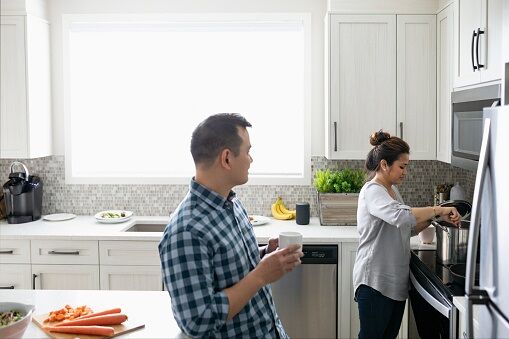 Today's social dilemma is interesting because I feel like maybe Yaz who emailed me this morning is getting scammed. This is was she wrote. Good morning Jamie. I listen to your social dilemmas at work every morning. I have one you might use. When my boyfriend had his apartment he would usually cook. Now I have rented the apartment that we both live in, and I cook everyday. As I said, we live together and have been for the last year and a half. I think he should cook sometimes, but he doesn't think he should cook because he says it's "my apartment" but it's really our apartment. It's just my name on the lease. He hasn't cooked since we moved in together. What should I do? Do you think this is fair? I can't wait to hear what you guys think. Thank you Jamie ~ Yaz Wow, well, I think this is the perfect example of a scam, and he's getting away with it. I'm a big believer that cooking duties should be worked out within the couple. In my house sometimes I cook, sometimes my sweetie cooks, and while it may not be split completely even down the middle, it always works out fine because we both help each other out. If someone is complaining then something is wrong. That's what I think anyway. I think I would cook dinner for myself and let him fend for himself until he budges on this. But that's just my solution. I know Yaz wants your help, so what do you think? How should she handle this, or should she just keep cooking and accept it? Let me know on the TRY Facebook page.

Jaime in the Morning!
Want to know more about Jaime in the Morning!? Get their official bio, social pages & articles on 98.3 TRY!
Read more