Social Dilemma-What Do You Do When Someone Bangs You in the Checkout Line?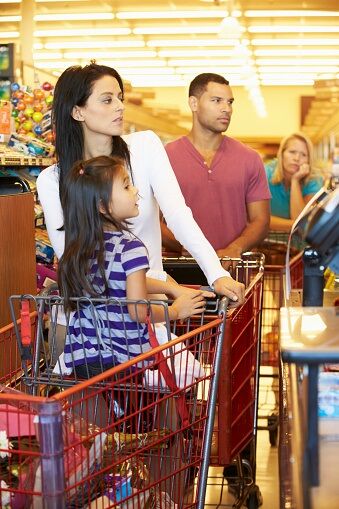 Today's social dilemma happened to me earlier this week. And it makes me crazy when it happens. I was in line at a department store. I won't say which one but red is their favorite color. Anyway, there was quite a line and it was just one of those situations where you were just going to have to wait. So there I am, minding my business, singing a song in my head when someone's cart bangs up against my back. Now usually when that happens, there's a child so I turned around with a smile on my face and nope, no kid, just a 35-40 year old man. So I looked at him, expecting an apology but nothing. Okay, so I turn back around and again, the line isn't moving very fast, and in about 30 seconds, it happens again. Now the obnoxious child inside of me wanted to turn around and push the cart into him, but I didn't, I just turned around and said "excuse me, your cart keeps banging into me. That's not going to make the line move any faster." He gave me a nasty look and turned away. Okay, I'm not going to let his bad mood affect me. And then about 30 seconds later, he did it AGAIN! I couldn't believe it. It was crazy, like he was the only guy waiting in line to get out of the store. Because I didn't want him to ruin my day, which would have happened if I stayed in line, I opted to get out of that line and go into another one even though it meant I was going to have to wait longer. I had to, or my inner child might have done something I wouldn't be proud of. How would you have handled the situation? Please let me know on the TRY Facebook page.

Jaime in the Morning!
Want to know more about Jaime in the Morning!? Get their official bio, social pages & articles on 98.3 TRY!
Read more