Fun Stuff to Look Forward to In the Month of July!
It's July!!! Can you believe it! There's so much fun stuff to look forward to this month. Summer vacations, great concerts and more!!
1.Amazon Prime Day is coming up . . . and it's two days now, on July 15th and 16th.
2.Some big movies hit theaters this month:"Spider-Man: Far From Home" opens today.The live-action "Lion King" comes out July 19th.And Quentin Tarantino's new movie, "Once Upon a Time in Hollywood" opens July 26th.
3.The third season of "Stranger Things" hits Netflix this Thursday.And two other big shows come back on July 26th:"Veronica Mars", and the final season of "Orange Is the New Black".Also, July 21st is the 50th anniversary of Neil Armstrong's moon-walk, so there are a bunch of specials. And "Shark Week" starts July 28th.
4.In sports: Wimbledon got started yesterday . . . the U.S. Women's Soccer team takes on England in the World Cup semi-final today . . . MLB All-Star week kicks off next Monday . . . the 2019 ESPYs are July 10th . . . and British Open coverage starts July 14th.
5.And finally, the holidays: The big one is the Fourth of July this Thursday. But there are a few other holidays where you might be able to score free food: National French Fry Day is July 13th . . . National Hot Dog Day is July 17th . . . and National Ice Cream Day is July 21st.
And don't forget all the great concerts:
7/2 Josh Groban at Tanglewood
7/3-4 James Taylor at Tanglewood
7/3 Phish at SPAC
7/4 Dennis DeYoung at the Empire State Plaza
7/5 Eli Young Band at SPAC
7/14 Tedeschi Trucks Band at SPAC
7/17-19 NYC Ballet
7/21 Heart and Sheryl Crow at SPAC
7/24 Rob Thomas at SPAC
7/25 Brad Paisley at SPAC
7/25 Comedian Patton Oswald at the Palace
7/26 River Summer Night Out with Train and the GooGoo Dolls at SPAC
7/27 Joe Bonamassa at SPAC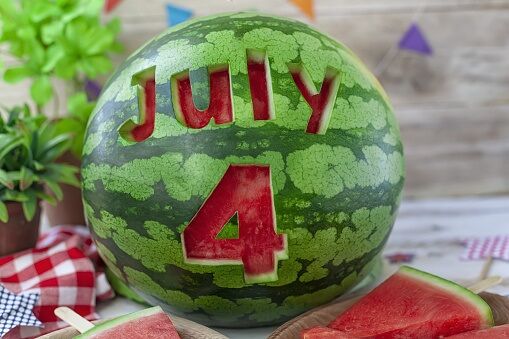 Jaime in the Morning!
Want to know more about Jaime in the Morning!? Get their official bio, social pages & articles on 98.3 TRY!
Read more