Social Dilemma-Can You Use Your Phone During Previews Before the Movie?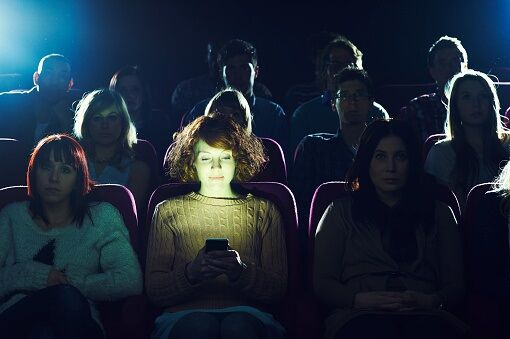 Today's social dilemma came about because of something that happened when I went to the movies over the weekend. My sweetie and I went to see Downton Abby and I was very excited to see it. We followed the TV series when it was on and it was going to be like visiting with old friends. Well, as we were sitting in the theater during the previews before the movie, several people had their cell phones out. Now I know it's only previews, but I like to get my head into the movie and the darkness and not feel like I'm in my living room. Isn't that what we pay 12 bucks for? But several people stayed on their phones right through the opening credits of the movie. They finally shut them off when the dialogue started. I thought this was inappropriate. Can't we stay off our phones for two or three hours to see a movie? My sweetie however, said I was overreacting and it was no big deal because it happened during the previews. So I thought I would ask what you think? Is it okay to be on the phone during the previews before the movie and during the opening credits of the film? I say NO WAY! Let me know what you think on the TRY Facebook page.

Jaime in the Morning!
Want to know more about Jaime in the Morning!? Get their official bio, social pages & articles on 98.3 TRY!
Read more