Social Dilemma-Should You Go To Work When You're Sick?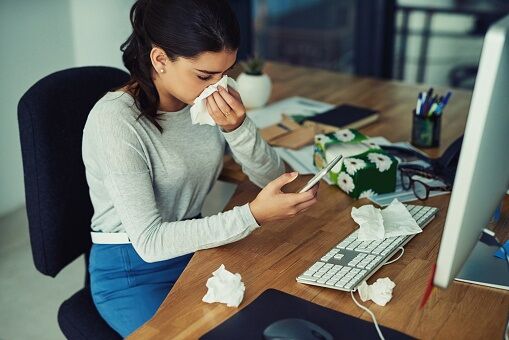 Today's social dilemma came up yesterday here at work. We have a coworker, who we absolutely love, but she constantly comes to work sick. I don't think we would mind so much but she's someone who has to have contact with all of us. So when she comes in sick, half of the office ends up coming down with the same cold. It drives everyone crazy. They get so mad, but she always says she didn't feel sick enough to stay home. What is sick enough to stay home. Common cold, sure, but anything stronger than that, I think your body needs you to stay home and rest. She strongly disagrees and wants to power through anything. She's come in with the flu, strep throat, and bronchitis. She always says she feels well enough to work. So what do you think? Is it okay to come to work sick? Or should you just stay home for a day or two to get a handle on things. I say stay home. You'll feel better and the rest of the office won't catch it. She says everyone would be upset if the work didn't get done. But we would find a way to get through it. So do you feel pressured to go to work when you're sick or do you call in ? Let me know on the TRY Facebook page

Jaime in the Morning!
Want to know more about Jaime in the Morning!? Get their official bio, social pages & articles on 98.3 TRY!
Read more